faye_dartmouth
, being the wonderful and amazing person she is, has humored me and my crazy ideas and created a fantastic
and massive
crossover between Hawaii Five-0 and the Ocean's trilogy in which Danny Williams and Turk Malloy are one and the same (which we will continue to explore in future fics):
Title
: The Break-Even Point
Author
:

faye_dartmouth
Summary
: Turk knows that reality is mostly perception, and the fact is he doesn't know how to separate Danny Williams from Turk Malloy anymore. The lines are blurred and the guise is deeper than the reality. He's not one or the other, but he's a little of both.
Link to Master Post
:
It starts as a bet.
I have created a fanmix to accompany the story, and Faye made a fantastic album cover for it. Feel free to download even if you don't want to read the story (although you really, really should because it's
amazing
) and let me know if there are any issues with the download.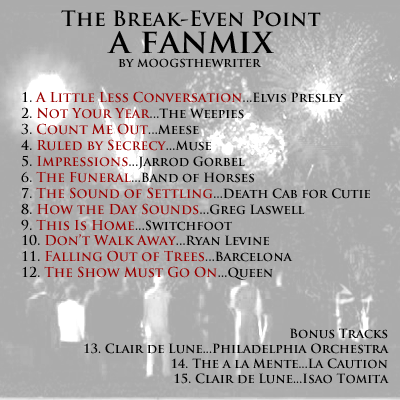 ( Lyrics and download link behind the cut. )